Twenty seven West Central FFA members recently competed in the State Leadership Development Events held in Pierre.  Members earned their berth to the state level competition by placing in the top two teams or three individuals at the District VII Leadership Development Events (LDE).  District VII is composed of 11 area schools and their respective FFA Chapters.
Teams and individuals placing first at the State LDEs advance to the national level and will compete in Indianapolis, IN in October.
In Agricultural Sales, a team of four members completes a written exam, participate in a team problem where the members consider how to address a specific sales scenario and then work as a team to sell their product to the customer.  Team members also complete an individual fact to face sale.  The team of Clay Farmer, Jacob Harden, Branzon Underwood and Hunter Wilebski placed first as a team and advance to the National Ag Sales Event.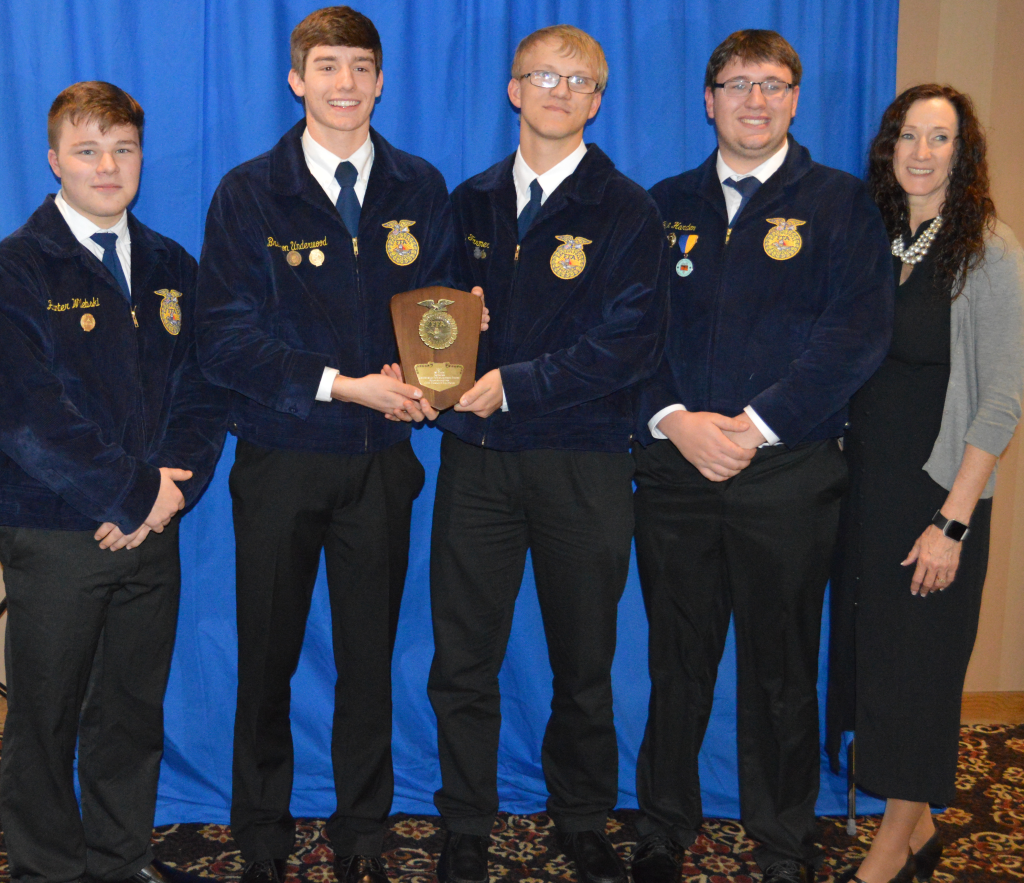 Pictured left to right: Hunter Wilebski, Branzon Underwood, Clay Farmer, Jacob Harden, Linda Petersen – Ag Ed Instructor and FFA Advisor.
In Ag Communications, a team of four complete individual editing and communications quizzes, prepare a written media plan to address a specific scenario to advertise a project, product or idea within a given budget, and present their media plan orally to a panel of judges. The team of Game Lorang, Taylor McMartin, Kyra McMillin, and Cossette Ulrich placed second in the state event.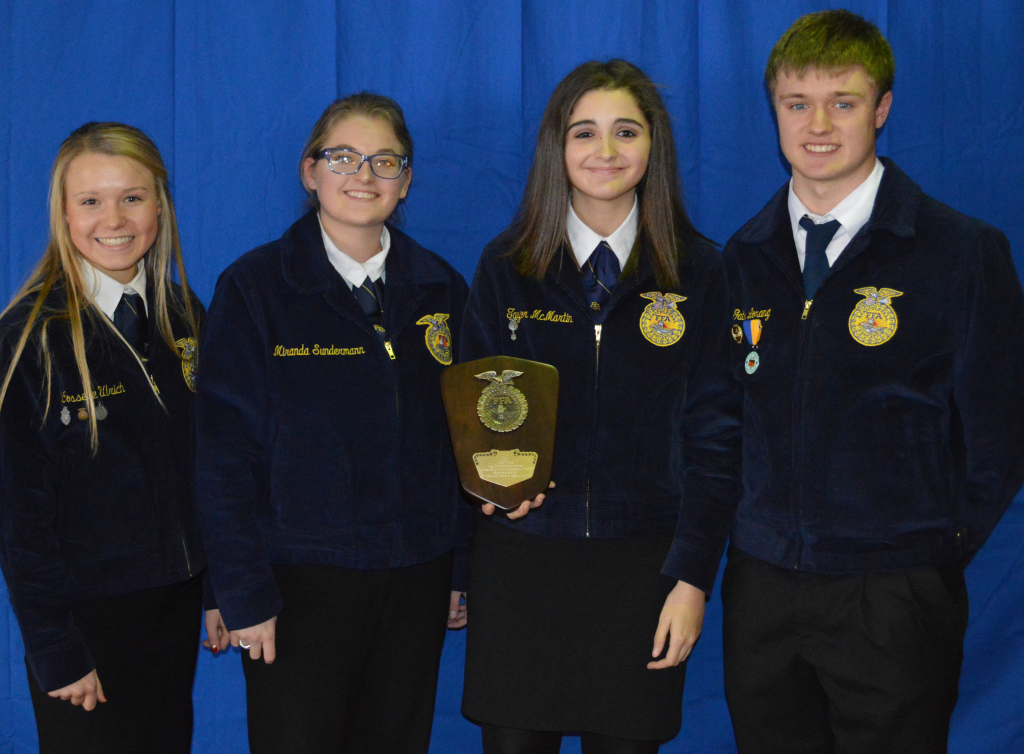 Pictured left to right: Cossette Ulrich, Kyra McMillin, Taylor McMartin, Gabs Lorang
The Market Plan Event requires a team of three members to suggest the addition of a new product or service to a local agricultural business.  Team members prepare a written plan that outlines how the business owner might benefit through the addition of this new product or service.  The Market Plan team of Tiffany Rausch, Lauryn Riepma, and Megan Schoeneman placed second in the state event.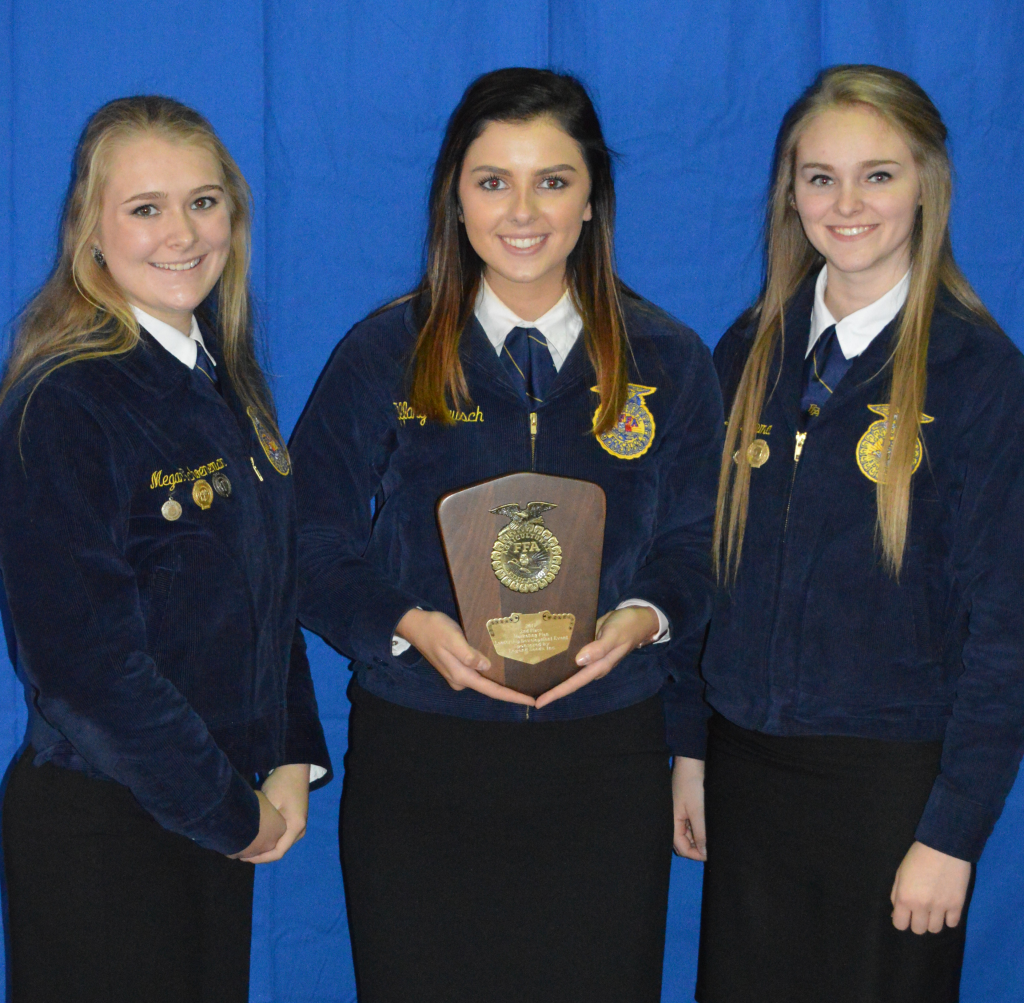 Pictured left to right:  Megan Schoeneman, Tiffany Rausch, Lauryn Riepma
In the Agricultural Issues forum, a team of three to seven members select a topic of local importance and present opposing viewpoints concerning that issue to a panel of judges.  The team of Jami Bergeson, Samantha Bergeson, Zach Brown, Liz Cards, Truman Dick, Braden Peters, and Reece Ullerich placed third with their presentation "Is the Healthy, Hunger-Free Kids Act Necessary?"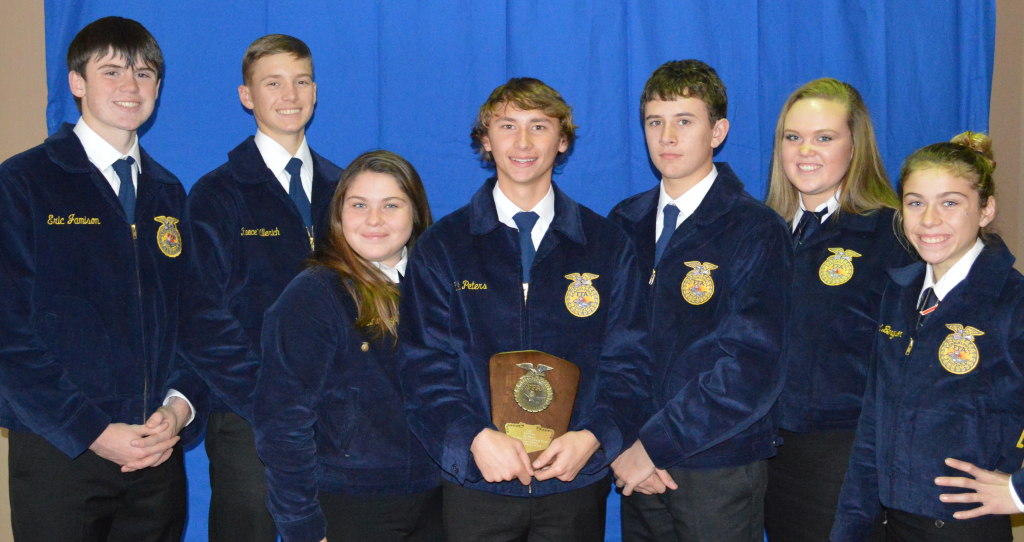 Pictured left to right: Truman Dick, Reece Ullerich, Samantha Bergeson, Braden Peters, Zach Brown, Liz Carda, and Jami Bergeson.
Tiffany Rausch competed in the Employment Skills LDE where she placed 4th.  Isak Edwards and Ali Olson competed in the Ag Broadcasting Journalism LDE.  Kiara Ebbinga competed in the Creed Speaking LDE.  The team of Sydney Underwood, Lindsey Kapperman, Epiphany Hammer, Mackenzie Grauel, Lauryn Driscoll, and Maria Schaefer competed in the Parliamentary Procedure LDE.