The West Central FFA Chapter will send members to Louisville, KY., as they vie for national honors in the areas of Agricultural Communications and Agricultural Issues.  Competitions will take place during the National FFA Convention October 29 – November 3, 2013.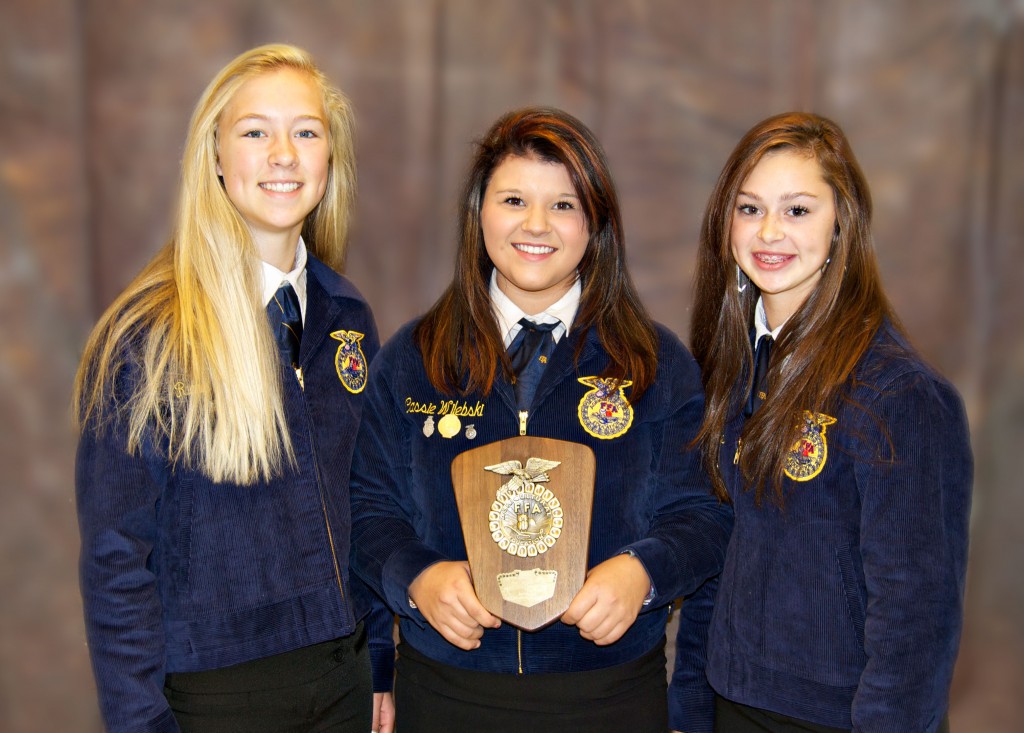 Ag Communications Team from left to right: Rachel Kapperman, Cassie Wilebski, Kaitlyn Schmeichel
FFA members who will represent the state and chapter in the Ag Communications CDE include Rachel Kapperman, Kaitlyn Schmeichel and Cassie Wilebski.  The event supports student development of sound communication principles to become strong assets to the agriculture industry in the future.
The Agricultural Communications CDE (Career Development Event) is one of 25 national CDEs, covering job skills in everything from communications to mechanics.  The three-member team is challenged in all areas of the agricultural communications field.  Participants attend a press conference, utilize information gathered in a team activity and complete individual practicums in design, electronic media and writing.  Students are also tested on editing and other communications skills.  CDEs help students develop the abilities to think critically, communicate clearly and perform effectively in a competitive job market.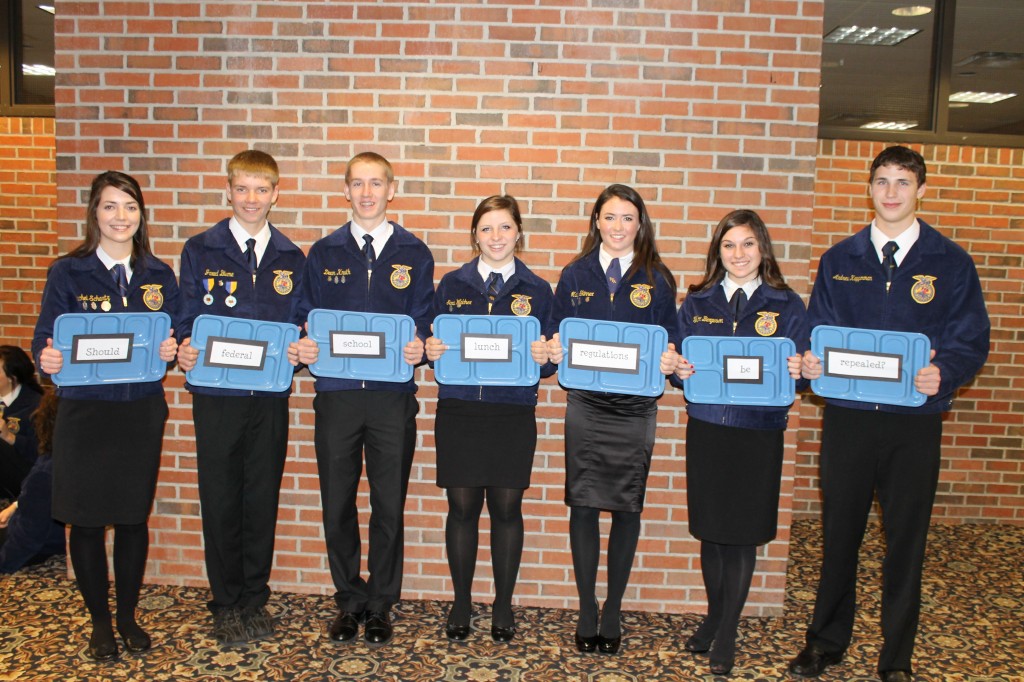 Members of the Ag Issues Team from left to right: Rachel Schartz, Jared Blume, Dean Knuth, Sara Waldner, Maty Skinner, Taylor Bergeson and Anthony Lueth  
West Central FFA members will also represent the state in the National Ag Issues Forum. Members of the Ag Issues team include Taylor Bergeson, Jared Blume, Dean Knuth, Anthony Lueth, Rachel Schartz, Maty Skinner and Sara Waldner.  Event participants identify, research and present information on an agricultural issue relevant to their community, thus creating an inherent connection between the members and their presentation.  FFA members present on a current issue facing agriculture to local community groups prior to competing  at the national event.  In their presentation, members must address all sides of their issue allowing the audience to form their own opinions.
West Central FFA members earned their berth to the national competition by winning their respective state CDE during the 2012-13 school year. This is the first year that an Ag Issues team from West Central will compete on the national level.  The chapter has sent teams to the National Ag Communications CDE in 2006, 2009 and 2012. The Ag Issues and Communications teams are coached by West Central FFA Advisor and Agricultural Education Instructor Linda Petersen.