The West Central FFA Agricultural Communications Team of Sara Waldner, Lauren Dolly, and Dean Knuth earned a berth in the National Ag Communications CDE (Career Development Event) by winning the state contest earlier this year.  The team will represent the state in October during the 87th National FFA Convention in Louisville, KY.  During the competition, Dalton Larson will compete in place of Dean Knuth.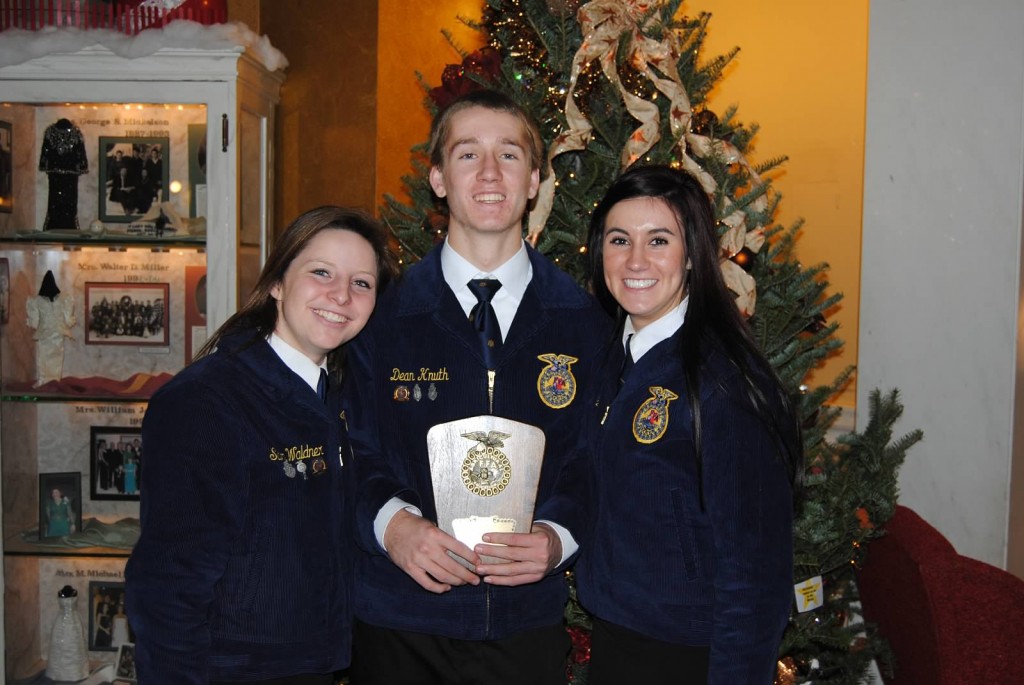 Pictured left to right: Sara Waldner, Dean Knuth, Lauren Dolly
Agricultural Communications is one of 24 career development event areas ranging from transferable job skills in everything from communications to mechanics.  The three-member team is challenged in all areas of the communications field.  Participants attend a press conference, utilize information gathered in a team activity and complete individual practicums in design, electronic media and writing.  Students are also tested on editing and other communications skills.  CDEs help students develop the abilities to think critically, communicate clearly, and perform effectively in a competitive job market.  The event supports student development of sound communication principles to become strong assets to the agriculture industry in the future.
The team will compete for individual scholarships and team awards worth more than $9000 made possible by the National FFA Foundation.  The team becomes the fifth team to compete in the Ag Communications CDE on the national level since the inception of the event in 2002. This team extended WCFFA's winning streak in the Ag Comm Event capturing the state title for the third year in a row. Waldner, Dolly, Knuth, and Larson are members of the West Central FFA Chapter and are advised and coached by Linda Petersen.
Previous National Ag Comm CDE Teams from West Central included the following:   2006 – Noelle Rist, Marissa Moeller, Kristy Rosenbrook, Danielle Morrison, Chelsea Sandahl, Travis Swier. 2008 – Joe Schartz, Shannon Miller, Stacia Knuth, Spencer Kurtz, Tucker Smith, Riley Olson. 2012 – Liz Renner, Rachel Schartz, Melinda Knuth. 2013 – Cassie Wilebski, Matt Sebert, Kaitlyn Schmeichel, Rachel Kapperman