The South Dakota State FFA Convention was held April 12-14, 2015 on the Campus of South Dakota State University.  57 West Central FFA members represented the Chapter in various capacities during the three day event.  Members were engaged in Career Development Events (CDE), Leadership Workshops, attended the Ag Career Carnival, toured the campus, and listened to numerous speakers.
Results from the State FFA Convention Production CDES are as follows:
Ag Mechanics – Dalton Larson – Silver, Jared Miller – Silver
Vet Science – Josh Mettler – Bronze
Livestock – Trey Struck – Bronze
Natural Resources – Austin Ideker – Silver, Benjamin Miles – Gold, Weston Hanisch – 6th place individual – Gold medal, Quinn Hanisch – 3rd place individual – Gold  medal.
Nursery Landscape – Erica Lorang – Bronze, Austin Woodard – Silver, Cory Smith – Silver
Meats – Jordan Lueth – Bronze, Kyle Vockrodt – Silver, Alex Klein – Silver
Dairy Cattle – 9th place individual – Konrad Kontz – Silver medal
Milk Quality and Products – Jill Even – Bronze
Farm Business Management – Rachel Schartz – Bronze, Jared Blume – Bronze, Sara Waldner – Bronze
Food Science – Molly McMahon – Bronze
Horse Evaluation – Blair Lammers – Silver, Lauryn Riepma – Silver
Team placings are as follows:
Vet Science Team – Bronze Award
Ag Business Management – Bronze Award
Nursery Landscape – 5th place, Silver Team Award
Meats Evaluation – 6th place, Silver Team Award
Food Science – 6th place Bronze Team Award
Ag Mechanics – Bronze Team Award
Horse Judging – Silver Team Award
Dairy Cattle – 9th place – Silver Team Award
The Natural Resources team of Quinn Hanisch, Weston Hanisch, Benjamin Miles and Austin Ideker earned a Gold Team Award and placed first in the state event.  They will now represent the state of South Dakota in the National Environment and Natural Resources CDE in October in Louisville, KY along with our Ag Issues and Ag Communications CDE Teams.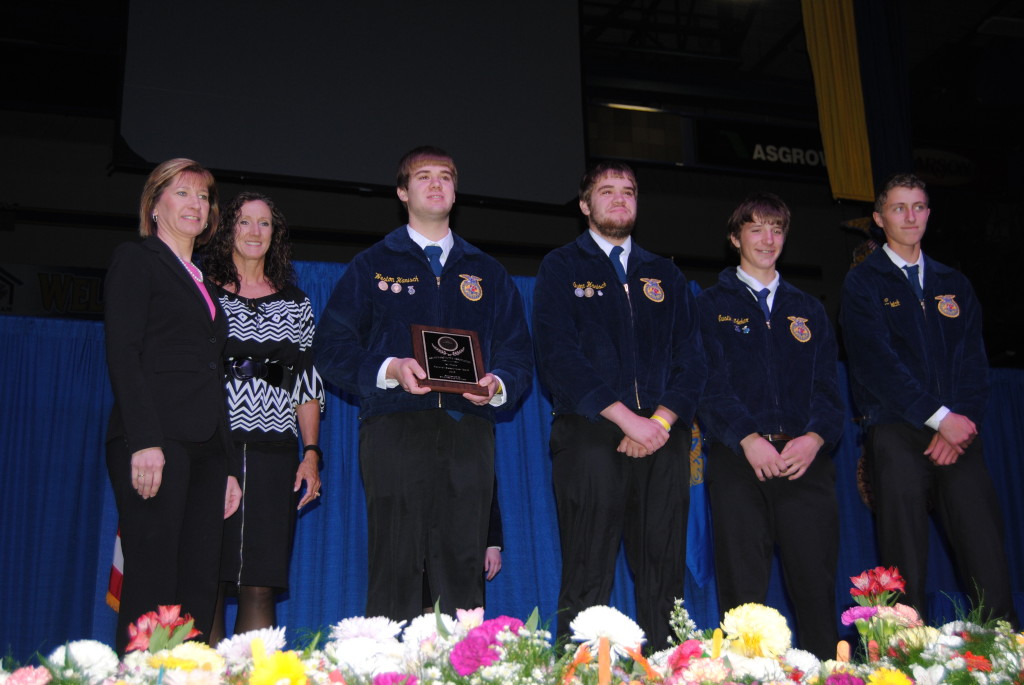 Sixteen members earned the State FFA Degree.  The recipients are: Noah Larson, Cody Farmer, Layne Krier, Jared Blume, Dean Knuth, Kylie Hanisch, Tayt Boeckholt, Jacob Anderson, Josh Mettler, Sara Waldner, Amber Weber, Rachel Schartz, Lauren Dolly, Ashlynn Henning, Brighton Edberg, and Taylor Bergeson.  The State Degree is the highest award that can be bestowed upon a member.