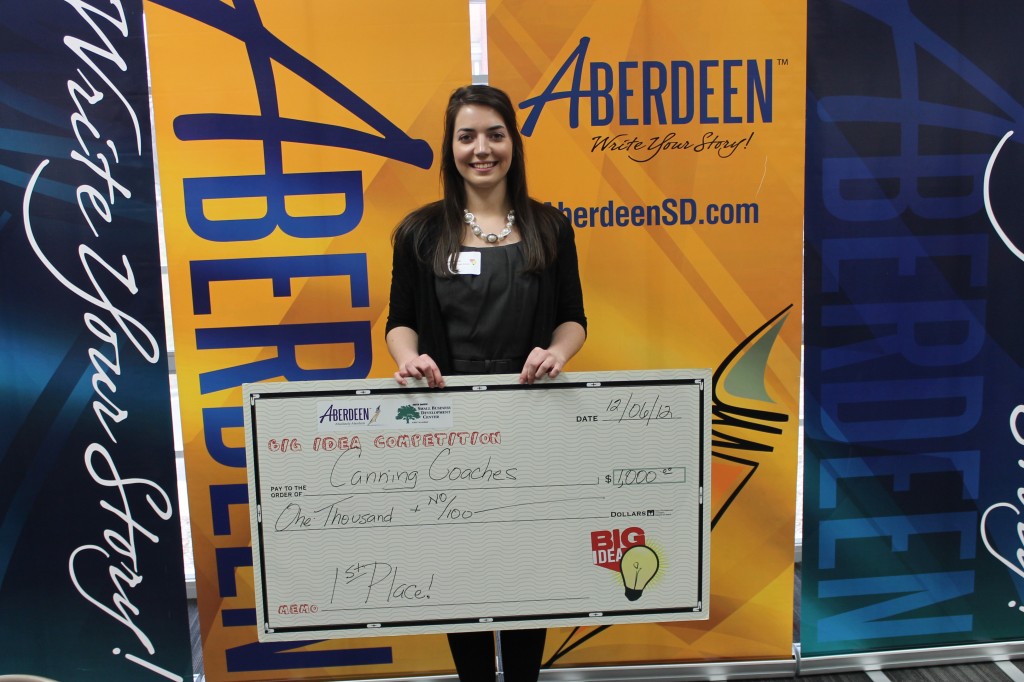 The 6th Annual BIG Idea Competition was a BIG success with 207 entries involving 299 students from 30 schools. The event wrapped up Thursday, December 6th, on the campus of Northern State University and the winners were determined from among the eight final entries with over $5,000 in cash and scholarships awarded.
Rachel Schartz from West Central High School took first place with Canning Coaches.  Her prizes included a $1,000 cash prize from Absolutely!Aberdeen, a $1,000 scholarship to  NSU, and a $1,000 scholarship to Presentation College. Second place went to Austin Lentsch of Pierre T.F. Riggs High School for AJ's Cakery Bakery with a prize of $500 cash, $500 Presentation College scholarship and $500 NSU scholarship. The $250 third place prize went to Alexander Thomason of Sioux Falls Washington High School for Braced With Style.
The final event required finalists to make a 1 minute elevator pitch and a 5 minute presentation on their idea for the three final judges.  After the presentations, all participants were invited to a panel discussion with Nathan Gellhaus of Angelhaus Regional Basic Care Center and Cory Geffre of Common Success.  They spoke about all aspects of being an entrepreneur.  Each panelist shared their achievements and struggles in starting and owning their own business, and offered advice for those who might one day want to turn their BIG Idea into reality.
This year's BIG Idea competition also included an honorable mention award for those applicants who scored within 10% of the finalists. Students and West Central FFA members enrolled in the Agricultural Leadership class submitted entries for the BIG Idea as a course requirement, Sara Waldner and Lauren Dolly were among the honorable mention award winners.  The West Central FFA Chapter is advised by Linda Petersen.
The BIG Idea Competition encourages students to consider new ideas and opportunities that can be implemented locally and to support them in creating an entrepreneurial view of their future.    The competition is coordinated by the Small Business Development Center, funded by Absolutely!Aberdeen with support from the Aberdeen Development Corporation and area sponsors.