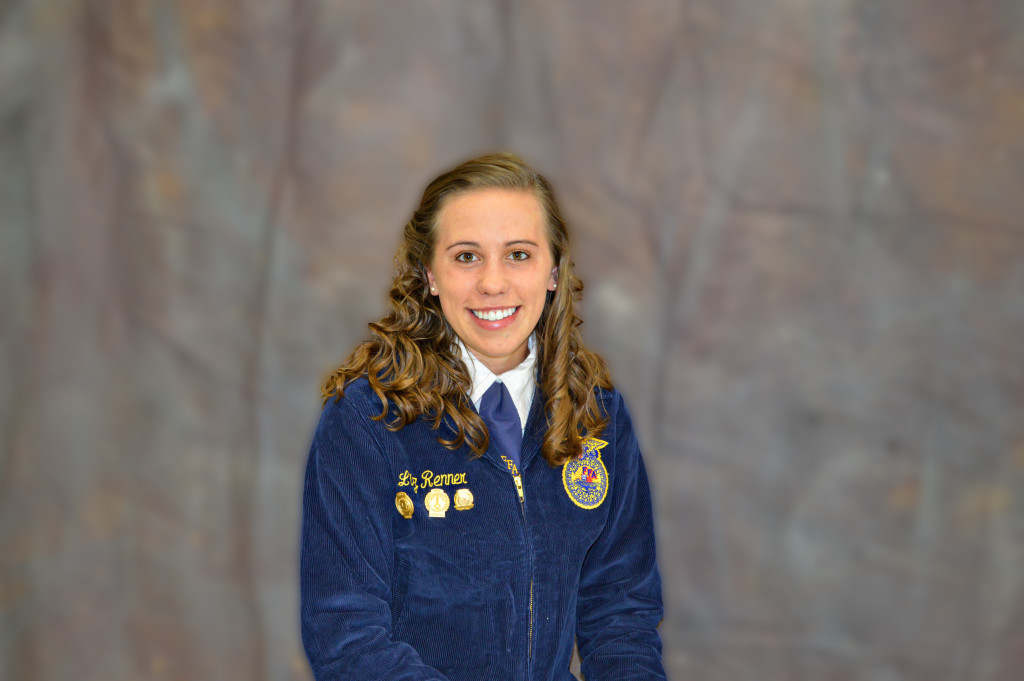 For as long as she can remember, Elizabeth Renner of Crooks, S.D., has been fascinated by the critters that inhabit aquatic areas. In fact, the West Central FFA member fondly recalls exploring the fields and streams in her area and examining all of the different insects and organisms.
Her love for scientific research continued to grow as she became older, and today, she has been named a 2016 finalist for the American Star in Agriscience, one of the most prestigious honors awarded to a student by the National FFA Organization.
Renner's first opportunity to do scientific research on aquatic organisms came through her involvement in an FFA Agriscience Fair during her freshman year. Her scientific explorations continued through high school and even included an internship with USDA's Natural Resources Conservation Service.
Following her freshman year in college, she conducted research with a professor on historic plant communities to see how ecosystems changed following the arrival of European settlers. During the summer of her sophomore year, she conducted stream surveys at bridge and box culvert construction sites for the South Dakota Department of Transportation.
She followed this experience by working in a stream ecology laboratory at an Alaskan nonprofit dedicated to protecting salmon streams within the Cook Inlet watershed. Today, the Augustana University senior plans to study how climate change influences stream organisms.
She plans to earn a doctorate in aquatic ecology and conduct research on aquatic ecosystems as an environmental consultant to federal agencies such as the U.S. Fish and Wildlife Service and the Environmental Protection Agency. She also feels called to educate the general public about the importance of aquatic organisms and wetlands for the health of communities.
Each year at the National FFA Convention & Expo, four FFA members are honored with American Star Awards for outstanding accomplishments in FFA and agricultural education.
The American Star Awards, including American Star Farmer, American Star in Agribusiness, American Star in Agricultural Placement and American Star in Agriscience, are presented to FFA members who demonstrate outstanding agricultural skills and competencies through completion of a supervised agricultural experience. A required activity in FFA, an SAE allows students to learn by doing, either by owning and operating an agricultural business, working or serving an internship at an agriculture-based business or conducting an agriculture-based scientific experiment and reporting results.
Other requirements to achieve the award include demonstrating top management skills; completing key agricultural education, scholastic and leadership requirements; and earning an American FFA Degree, the organization's highest level of student accomplishment.
Sixteen American Star Award finalists from throughout the U.S. are nominated by a panel of judges who then interview the finalists during the national convention and expo. Four are named winners and receive cash awards totaling $4,000. All American Star finalists receive a $2,000 cash award. The American Star Awards are sponsored by ADM Crop Risk Services, Case IH, Elanco Animal Health, Farm Credit and Syngenta as a special project of the National FFA Foundation.
Judging will occur in Indianapolis during the 89th National FFA Convention & Expo, Oct. 19-22, with the winners being announced during an onstage ceremony on Thursday, Oct. 20.
Renner is the daughter of Tim and Karin Renner. She is a member of the West Central FFA Chapter, led by advisor Linda Petersen.
The National FFA Organization provides leadership, personal growth and career success training through agricultural education to 629,367 student members who belong to one of 7,757 local FFA chapters throughout the U.S., Puerto Rico and the U.S. Virgin Islands.