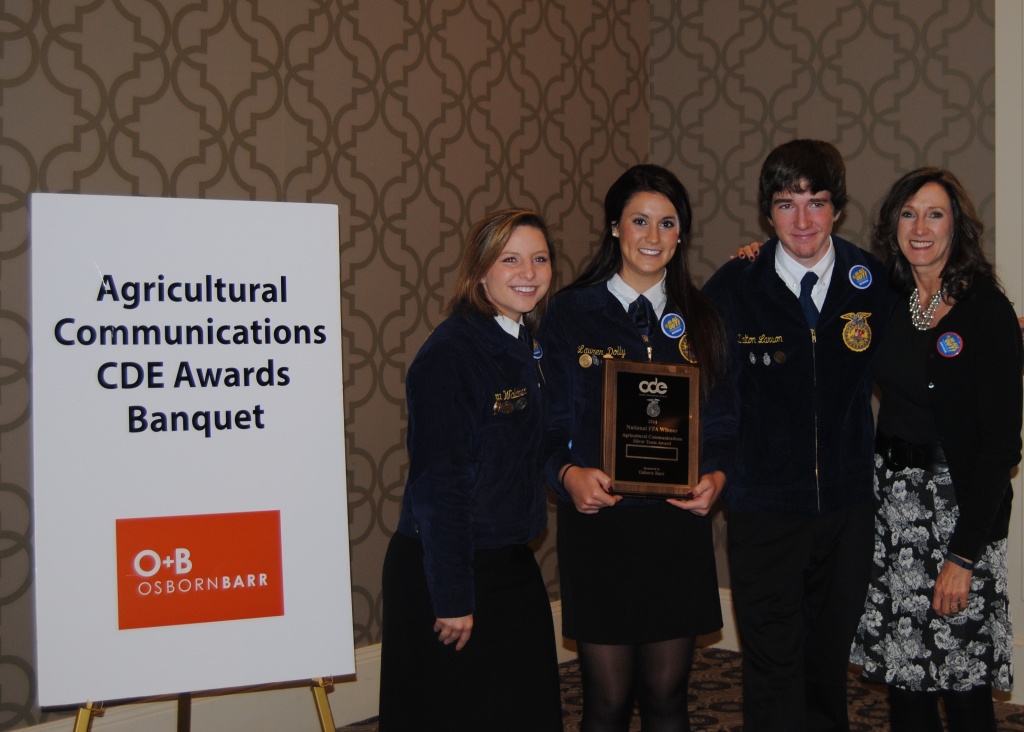 Pictured left to right are Sara Waldner, Lauren Dolly, Dalton Larson, Linda Petersen
West Central FFA members recently represented the state of South Dakota in the National Agricultural Communications Career Development Event (CDE) during the 87th National FFA Convention held in Louisville, KY.  Members of the team were Lauren Dolly, Dalton Larson and Sara Waldner.
The Ag Communications CDE is a competitive event that tests students' skills in all areas of the agricultural communications field and evaluates how well they can apply classroom knowledge to real-life situations.  Participants attend a simulated press conference and use the information gathered to complete individual practicums in writing, electronic media, and design.  Prior to the event, students compile media plans related to innovative agricultural practices, management techniques and marketing tools.  Each team then creates a 15-minute presentation based on their proposal.  Members also compete in an editing exercise and a general communications quiz.
The team placed 13th in the nation, earning a silver medal.  Individual gold medals were earned by Sara Waldner and Lauren Dolly.  Dalton Larson captured a bronze medal.  The event is sponsored through the National FFA Foundation by Osborn & Barr.  2014 marks the third year in a row that West Central has represented the state in the national CDE.  Teams advance to the national level by winning their state CDE.  The Ag Communications team is coached by Ag Ed Instructor and FFA Advisor Linda Peterson.