The South Dakota FFA Association hosted 446 FFA members from across South Dakota at the 2012 State FFA Leadership Career Development Events (CDE) on Dec. 2-3 in Pierre, S.D. These FFA members advanced to the state level competition by placing first or second at their district competitions. At the State Leadership Career Development Events, members and chapters were recognized for their success in 10 leadership areas. Winning teams and individuals advance to compete in their Career Development Event areas at the National FFA Convention in Louisville, Kentucky next fall. South Dakota State Senate Democratic Leader Jason Frerichs addressed FFA members at the awards luncheon Monday afternoon. Frerichs shared the importance of agriculture and encouraged FFA members to be advocates for the industry.
Job Interview challenges FFA members to complete a job application, write a letter of application, participate in an actual interview and compose a follow-up letter.  Rachel Schartz placed second.
In Ag Issues, a team of 3-7 students discuss the pros and cons of a major agricultural issue facing their area.  The team from West Central captured first place and will advance to national competition with their issue "Should federal school lunch regulations be repealed?"  Team members are Maty Skinner, Anthony Lueth, Taylor Bergeson, Jared Blume, Dean Knuth, Rachel Schartz and Sara Waldner.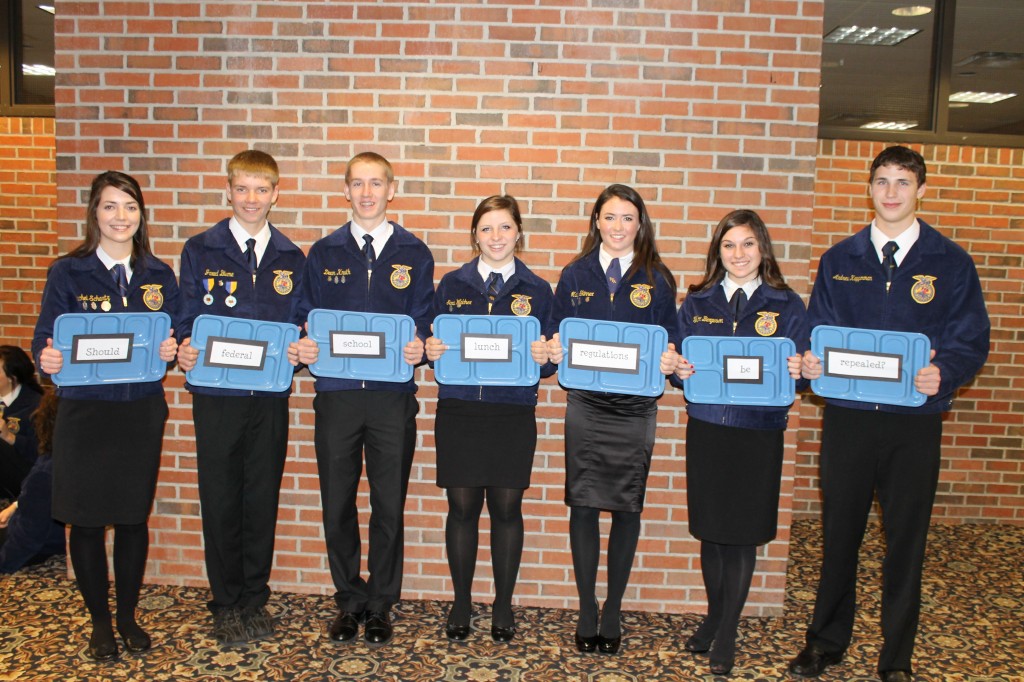 The West Central FFA Chapter is composed of students enrolled in an Agricultural Science Class and is advised by Linda Petersen.  The chapter was well represented by 16 members competing int he State Leadership CDEs.